SMTP stands for Simple Mail Transfer Protocol. It is a standard in sending out electronic mail messages across networks that run on IP or the Internet Protocol. Although its design may allow sending and receiving email messages, SMTP is mostly used as the standard for outgoing email.
Act of sending spam/unsolicited emailing of company "introductory letters" or "promotional emails" is strictly prohibited on our servers. The datacenter takes zero tolerance against sending spam to purchased lists or safe lists crawled from google or related websites, which results in our IP space being blacklisted will be immediately suspended and/or terminated.
Here is an outstanding service for email marketers to run their email marketing campaigns through SMTP Service.
The talk of blacklists, blocked domains, and bounce rates can be enough to scare away any well-meaning marketer. Therefore we are providing an excellent 3rd party email service that are specific to your business goals — and not on the fear of getting on some blacklisting issue.
If you are a legitimate business with a legitimate reason to contact subscribers who openly opted-in to receive communication from you, then there is no reason to be unduly alarmed and panicked.
We are offering some attractive packages regarding this service. So choose an SMTP package according to the business requirement that will helpful for you and your business.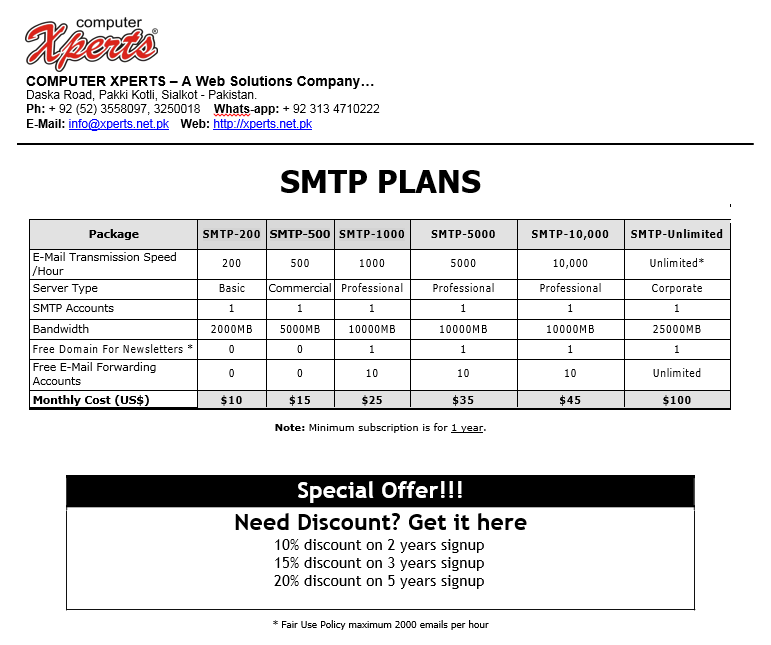 Terms & Conditions:
1. The minimum subscription of SMTP plan is for 1 year and cannot be refunded once created
2. SMTP plan is applicable for only subscribed domain/individual email account
3. There is no guarantee of email deliverability to free email accounts (gmail,hotmail,yahoo etc)
4. Messages rejected due to spam contents/blacklisted domains cannot be entertained
5. SMTP installation/activation can take 24-48 hours
6. We reserve the right to deactivate any SMTP account at any time without prior notice
For more informations you can contact us via Phone: +92-52-3250018-19-27 or Email: helpdesk @ xperts.net.pk.
---